Check Out the New 2016 Volt From Husker Chevrolet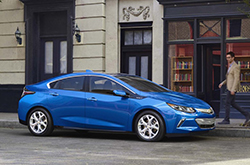 The all-new 2016 Volt is upgraded with an improved all-electric range, redesigned interior and innovative technologies that now make plug-in hybrid ownership easier than ever. With the comfort and convenience of a sedan and the intelligence and efficiency of an electric car, the 2016 Chevrolet Volt in Lincoln is the ideal vehicle when it comes to car ownership in Nebraska. Plus, with so many new features and enhanced aspects, there is truly no compromising when you choose the all-new Volt.
Now enhanced with extended range, Volt drivers can travel 50 miles on a full charge without even using a drop of fuel, a feat that has not gone unnoticed by 2016 Chevy Volt reviews. With a lighter, more advanced makeup, the industry-leading battery found in the Volt is a highlight of today's next-generation automotive technology. Moreover, the Volt's 1.5L range-extending engine combines with an electric system to offer an estimated 41 mpg. In what has been called a spectacular display of innovation, the Volt can ultimately travel nearly 1,000 miles between fill-ups if charged consistently.
In addition, new GPS location-based charging technology allows drivers to input a preset that will work with the GPS system to produce a customized charge when the GPS detects the car is "home." Additionally, Chevy allows public charging to be easier than ever with simple portable cords and an intuitive charge status indicator in the 2016 Volt.
The new Chevy Volt isn't just efficient, however. With an assortment of safety features including a standard rear-vision camera and optional lane change alerts, lane departure warnings, front collision alerts and rear park assist, the Volt offers the top safety ratings that buyers expect from a Chevy. Additionally, the Volt features an 8-inch screen that controls the Chevrolet MyLink digital interface and a convenient system, Regen on Demand, that enables drivers to take part in the energy regeneration process.
While this 2016 Chevrolet Volt review provides a brief overview of this spectacular plug-in hybrid, it takes a test drive to truly understand the value of this redesigned electric car. Come in today and check out the unparalleled design, innovation and efficiency that can be found only in the 2016 Chevy Volt in Lincoln, Nebraska.