Hey, Are You Wondering Where Can I Have My Chevrolet Transmission Repaired Near Me?
Are you wondering if your Chevrolet's transmission needs maintenance or repair work? It is easy to overlook transmission maintenance service because of how infrequently the service usually needs to be completed. However, when you fail to take great care of the transmission, serious and frustrating auto repair issues can develop. Your Chevy's transmission completes the vital function of moderating the torque and power of the engine. Without a well-functioning transmission, your Chevrolet vehicle would not be able to operate as desired. Significant transmission repair issues can be prevented in many cases through regular maintenance work. When your vehicle needs transmission repair or maintenance work or when any other automotive repair concerns arise, entrust the care of your Chevrolet to our certified auto tech team.
What Are the Common Transmission Maintenance Services for a Chevrolet?
Regardless of the model and year of your Chevrolet, the transmission fluid and filter can become increasingly dirty. The filter serves the purpose of minimizing the amount of debris that enters the system. The fluid is responsible for lubrication and temperature control inside the transmission system, but this fluid can become increasingly ineffective as it gets dirtier. When lubrication and temperature control are minimized, the result is increased friction, higher temperatures and an increased likelihood of significant damage in the transmission. Common transmission maintenance for Chevrolet vehicles involves filter and fluid replacement. These two steps are usually completed together, and the recommended interval for most vehicles is between two to three years or between 30,000 to 45,000 miles. Remember to refer to your Chevy's ownership manual for specific auto maintenance guidelines for your vehicle.
Should Transmission Fluid Be Flushed or Changed?

There are significant similarities between a transmission fluid flush and a fluid change, but there are also a few key differences. Understanding what these services entail can help you to better care for your Chevy vehicle. Both of these services usually include the replacement of a transmission filter and fluid in the transmission pan being replaced. This is the extent of a transmission fluid change service. With a transmission flush service, fluid is flushed from the entire transmission, including from the torque converter and cooler lines. All old, dirty transmission fluid is removed and is replaced with fresh, clean transmission fluid. You can see that a fluid flush is more substantial than a fluid change service. A flush may be recommended when your vehicle's transmission fluid is exceptionally dirty or if you prefer to go longer periods of time between auto maintenance services.
Does My Chevrolet Need Transmission Repair Work?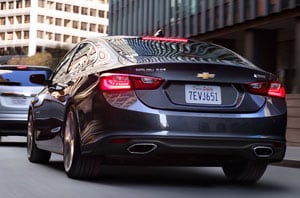 Identifying signs of transmission trouble and repairing the damage as soon as possible can potentially prevent substantial repairs from developing. Some damage may be so severe that the vehicle cannot run until the repair work is completed. Maintaining your transmission can ward off some repair issues. In addition, observing the Chevy for potential transmission damage can help you to catch developing issues as soon as possible. Your transmission may need service if the engine indicator light turns on, if you smell something burning while driving, if shifting gears creates a jerking movement or if fluid is leaking out of the transmission. When your Chevrolet needs transmission services or any other auto maintenance and repair service, we are the team to contact for excellent results. Make your appointment with our team today.