2019 Chevrolet Silverado 1500 Driving Impressions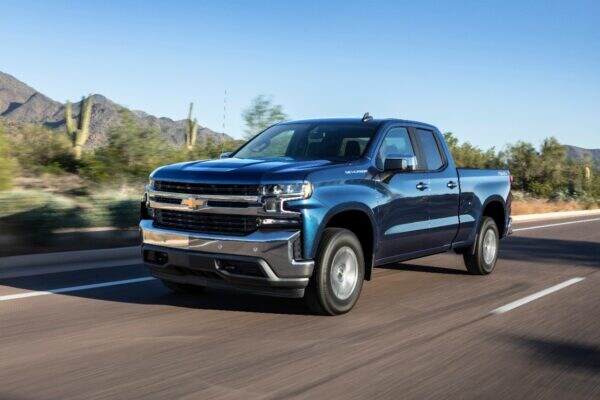 The Silverado's new body and chassis, both made lighter in this generation, contribute to a well-controlled ride. Suspension revisions make the big pickup's already-smooth ride even better – exceptionally comfortable on the road. Some bounding motions occur, especially with an empty cargo bed.
On-road dynamics also have improved. Though larger than before, Silverados have controlled handling, thanks in part to substantial weight loss. Direct steering is nicely weighted. While a Silverado leans in corners like any tall vehicle, it responds well to driver inputs.
Parking, logically enough, can be a challenge. An available surround-view camera system includes multiple trailer views.
Pleasant to drive, a Silverado is amply powerful with either V-8 engine, though many buyers are likely to consider the base V-6 to be adequate. Each V-8 accelerates smoothly, emitting a pleasant rumble, but the 6.2-liter is noticeably more willing. All automatic transmissions provide smooth shifts with V-8 power.
Compared with rivals from Ford and Ram, the turbo-4 is short on power, payload, and towing capacity. However, it carries EPA-estimated 13-percent better fuel economy than the V-6 it replaces, helped by a smooth-shifting automatic. Because the turbo-4 generates plenty of torque at lower speeds, it's smooth-natured and powerful in city driving. A turbo-4 LT gripped the pavement well, though undulating surfaces challenged its suspension.
Fuel economy is better than it used to be. With rear-drive, 6-speed automatic and 5.3-liter V-8, a Silverado is EPA-rated at 17/23 mpg City/Highway, or 19 mpg Combined. Four-wheel drive lowers the estimate to 16/22/18 mpg. An 8-speed automatic lowers the rear-drive estimate to 15/21//17 mpg. The 6.2-liter V-8 is EPA- rated at 16/20/17 mpg with four-wheel drive.
The new turbo-4 is EPA-rated at 20/23/21 mpg with rear-wheel drive, and 19/22/20 mpg with four-wheel drive. Rear-drive V-6 Silverados are EPA-rated at 16/21 mpg City/Highway, or 17 mpg Combined, dropping to 15/20/17 mpg with four-wheel drive.
1Dealer Discount applied to everyone.