2018 GMC Terrain Introduction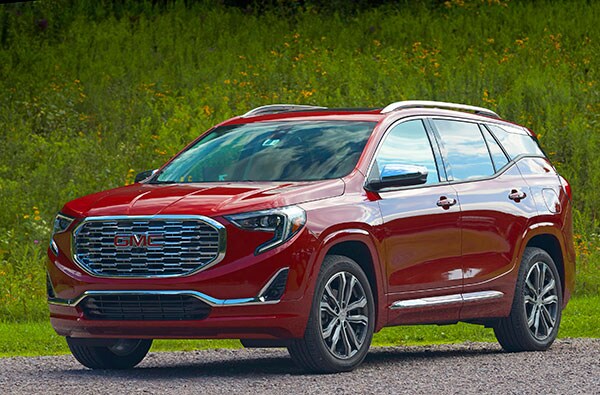 The 2018 GMC Terrain compact crossover is all new, from the downsized chassis, to the all-turbo/9-speed powertrain, to the new body that moves from macho to mundane. The Terrain is much like the Chevy Equinox, with the same footprint, but sheetmetal that's sculpted into bold scoops and creases, and bigger fenders.
The compact crossover is a tough class. Terrain competes not only against its near-twin Equinox, but also Honda CR-V, Toyota RAV4, Ford Escape, Mazda CX-5, and others. Terrain's acceleration is smart, its handling sound, and its ride well tuned.
For 2018, the excellent 3.6-liter GM V6 engine gets disappeared. Its 301 horsepower will be missed in a vehicle as heavy as the Terrain, at 3500 pounds. Its replacement is a turbocharged 2.0-liter I4 making 252 horsepower, with vivid acceleration but a big thirst, achieving 24 mpg EPA Combined with fwd, 23 mpg with awd.
The base engine gets retired too. The old one was a 2.4-liter I4 with direct injection, making 180 horsepower and getting 25 mpg. The new one is a turbocharged 1.5-liter making 170 horsepower, but with more torque and fuel mileage of 28 mpg with fwd, 26 mpg with awd.
If the stats of the new engines don't sound so impressive, look at it this way: the new 252-horsepower I4 gets just 1 less mpg than the old 180-horsepower one.
There's also a diesel engine that gets better fuel mileage, 32 mpg with either front- or all-wheel drive. It's entertaining in a grown-up way, but less energetic.
The new 9-speed automatic transmission pairs beautifully with the new engines, but lacks manual control, with audio controls where we wish there were paddle shifters.
1Dealer Discount applied to everyone.