About Chevrolet Reviews From Husker Chevrolet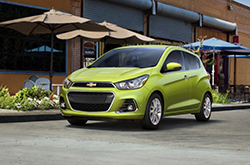 Redesigned and better than ever before, the all-new 2016 Chevrolet Spark in Lincoln is the ideal vehicle for drivers who desire an eco-friendly hatchback without compromising comfort. Additional enhancements to the completely redesigned Spark include extra safety features, updated connectivity technology and a new, more powerful engine. Efficient, elegant and globally centered, there is truly no better choice when it comes to a microcar in Lincoln, Nebraska. Interested in learning about Chevy's award-winning Spark and its redesign? Check out our 2016 Chevrolet Spark review below to find out more.
Chevy held nothing back when redesigning the Spark as a contemporary contender in the minicar market. Now with a longer wheelbase and stronger body structure, the 2016 Spark provides a more refined and fine-tuned feel for drivers and passengers. But, the classic agility of the Spark is not lost with the updates. Its athletic body is met with an even more energetic 1.4L four-cylinder engine that offers 16% more horsepower than the 2015 edition. Plus, when paired with a manual or continuously variable transmission, the Spark can deliver an estimated 40 mpg on the highway.
The 2016 Spark will not just deliver you from point A to point B with efficiency; it will also do so with the most up-to-date safety features you desire. With the goal of making every driving experience as secure and user-friendly as possible, Chevy has included a rear-vision camera system as a standard feature. The new and improved 2016 Spark builds upon its predecessor with a stronger structure, an optional rollover sensing system, and a suite of available active safety features that includes forward collision alert, lane departure warning and blind spot detection.
While the old phrase "safety first" does ring true here, you'll never have to sacrifice style and convenience in the 2016 Chevrolet Spark in Lincoln. Now with an updated 7-inch color touchscreen equipped with innovative Chevrolet MyLink infotainment, available 4G LTE Wi-Fi capability and a Voice Pass-Through system for easy operation, drivers will be satisfied with all of the entertainment and connectivity the Spark has to offer.
Check out the additional information below this 2016 Chevrolet Spark review for even more insight into Chevy's remarkable minicar.