Husker Chevrolet Previews the New Impala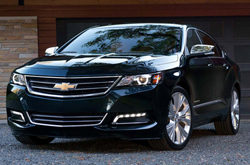 The award-winning Chevy Impala jumps back into gear for 2015, offering buyers the same reliability, functionality and spacious accommodations that it has become known for. The model receives very few updates for the new year, but those that do appear prove to be significant enhancements that won't go unnoticed by today's car enthusiasts. Technology improvements and the debut of an all-new model stand as the most notable changes to the 2015 Chevy Impala in Lincoln this year. You can learn more about these advancements and additional new features in our comprehensive 2015 Chevy Impala review.
Slightly revised for the new year, the incoming Chevy Impala comes with three new exterior paint color options for 2015: Autumn Bronze Metallic, Blue Velvet Metallic and Rainforest Green. OnStar with 4G LTE has also been integrated into in the sedan with a built-in Wi-Fi hotspot, allowing passengers to access the internet while on the go. Accompanying the 2.5L iVLC engine this year, start/stop technology improves fuel efficiency by shutting down the engine in certain conditions. With no help from the driver, it then automatically restarts when the driver's foot is taken off the brake, effortlessly kicking right back into position.
Providing range for buyers who want alternate fuel options, the 2015 Chevy Impala in Lincoln is available in a brand-new bi-fuel variant this year. Running on gas and CNG, the model comes outfitted with a 3.6L V-6 engine, featuring special valves and valve seats to increase durability with the use of the CNG fuel system. When used with this system, the engine is able to produce 230 horsepower; however, when powered by gas, it outputs 260 horsepower. The combination of both systems will enhance fuel economy drastically, delivering an EPA-estimated 500 city miles and saving buyers on gas. This model is expected to release later than the standard Impala and will be available in LS and LT trims.
Keep reading our 2015 Chevy Impala review below to find out more details about the car's brand-new features.�