Husker Chevrolet Previews the New Cruze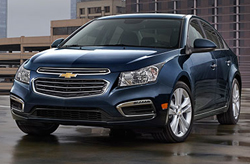 Chevy's top-selling model, the Cruze, arrives for 2015 with new updates that enhance its charm and set it against the best of the best in the compact car segment. Its exterior styling has been revised to create a more unified look across Chevy's lineup and its interior has been slightly modified to improve accessibility. Several technological components have also been integrated into the 2015 Chevy Cruze in Lincoln, boosting connectivity for drivers and providing additional capability. To read more about each of these changes and others, check out our 2015 Chevy Cruze review.
Chevy's aim to incorporate fluidity into their popular lineup is recognizable on the 2015 Chevy Cruze. The automaker chose to revise the car's exterior appearance this model year by adopting styling elements found on the updated 2014 Chevy Malibu and the newly released tenth-generation Impala. However, they didn't stop there. The car's interior was also revised to increase convenience for drivers; the trunk release is now located on the center console, cupholders have been upgraded and door lock switches are now on the front doors. OnStar 4G LTE with available Wi-Fi hotspot, Apple Siri and text message alerts were also added to the 2015 Chevy Cruze in Lincoln this year to enhance functionality.
When it comes to powertrains, the Chevy Cruze offers two options: an ECOTEC 1.8L four-cylinder engine and an ECOTEC Turbo 1.4L four-cylinder engine. The former produces 138 horsepower and 125 lb.-ft. of torque, while that latter outputs 138 horsepower and 148 lb.-ft. of torque. If you choose to drive the Cruze Diesel, get to ready experience even more power and efficiency. Backed by a turbocharged 2.0L diesel four-cylinder engine, this model delivers 151 horsepower and 264 lb.-ft. of torque, and features a six-speed automatic transmission (also standard on LTZ). The remaining LS, LT and Eco models come standard with a six speed-manual transmission.
For more powertrain details and additional information, continue reading our 2015 Chevy Cruze review below.