About Husker Chevrolet Volt Reviews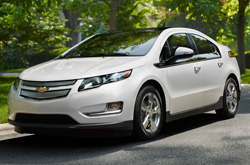 Scroll past the 2013 Chevrolet Volt review video below to start reading about the new Volt. As the prominent automotive writers performed countless hours of research on the Volt to provide you with the most striking information possible. As you read this article, you'll see that it is brimming with practical material on all of the things you'r looking for in the new Volt. Get started by reading the full review or watching the video.
Take a Look inside the Chevrolet Volt
Compare the Chevrolet Volt's Specs & Features
When comparing the 2013 Chevrolet Volt to the 2013 Nissan Leaf, Toyota Prius, Ford Focus Electric and the Hyundai Sonata Hybrid, and you'll notice that the Volt outshines those autos in many aspects. Browse just a few of the reasons below.
2013 Chevrolet Volt MSRP: $39,145
2013 Chevrolet Volt Seats: 4 passengers
2013 Chevrolet Volt Cargo Space: 10.6 cubic feet
2013 Chevrolet Volt Body Style(s): Compact Sedan
2013 Chevrolet Volt 0-60 MPH in 8.53 seconds
2013 Chevrolet Volt Colors: Black, Summit White, Viridian Joule, etc...
2013 Chevrolet Volt MPG: 24 city / 36 highway
Features & Accessories Available on the New 2013 Volt
Affordable Chevrolet Service in Lincoln, Nebraska
Feel the [resassurance] that comes along with receiving topnotch repairs by Chevrolet trained technicians, a gratis warranty on all repairs, and real Chevrolet parts. At our Lincoln area repair center, this and more is available for Chevrolet Volt drivers. Your Chevrolet will stay in staunch form with support from the expert auto repair associates at Husker Chevrolet's service shop. We handle more involved, tedious duties like electronics repair, as well as simplistic endeavors such as customary multi-point inspections, brake pad replacement and a wide array of additional services. Husker Chevrolet is your surefire destination in Lincoln for quality, professional Chevrolet repairs and routine maintenance. Click the ensuing link to be connected to Husker Chevrolet's service coupons.