2013 Chevrolet Tahoe Reviews from Husker Chevrolet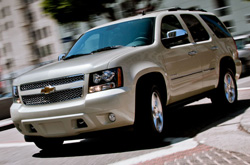 Thank you for selecting Husker Chevrolet as your source for 2013 Chevrolet Tahoe reviews. With the help of automotive writers, Husker Chevrolet put together some of the finestChevrolet Tahoe reviews you'll find on the web. Every article comes filled with beneficial information, specs and research - just what you need to make smart decisions on your next Chevrolet Tahoe purchase. Get started by watching the video below or move on to the full review.
Watch a Video on the New Tahoe
Bullet List of Tahoe Specs & Features
Check out the 2013 Chevrolet Tahoe side-by-side with versus similar autos like the 2013 GMC Yukon, Dodge Durango, Ford Flex, Buick Enclave, Jeep Grand Cherokee and the Toyota Sequoia, and you will discover that the 2013 Tahoe beats out those vehicles in quite a few areas. Scan the reasons see why!
2013 Chevrolet Tahoe MPG: 15 city / 21 highway
2013 Chevrolet Tahoe Seats: 8 passengers
2013 Chevrolet Tahoe MSRP: $39,080
2013 Chevrolet Tahoe Colors: Mocha Steel, Silver Ice, Black, etc...
2013 Chevrolet Tahoe Body Style(s): Large SUV
2013 Chevrolet Tahoe 0-60 MPH in 6.7 seconds
2013 Chevrolet Tahoe Cargo Space: 16.9 cubic feet
Features & Trims Available to Lincoln Chevrolet Tahoe Shoppers
Your Chevrolet Tahoe Comes With Built In Peace of Mind
Maintaining the Quality & Value of Your New Investment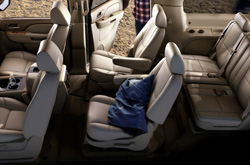 Our Chevrolet dealership in Lincoln is sited near several close by cities! So, you're a short journey away from acquiring real OEM parts and work from Chevrolet technicians! We also protect our patrons with a long-term warranty on repairs! The friendly technicians at our Chevrolet repair branch in Lincoln will help your Tahoe run properly. Whether you need us to administer a manageable chore as an oil change, or take on involved Chevrolet service and repairs like transmission rebuilds, strut and shock repairs, timing belt replacements. It's very simple - to get economical prices and wizards Chevrolet repairs, Husker Chevrolet should be your prime choice when choosing a Lincoln auto center. Get unreal savings - before you stop by our repair branch, bring a coupon. Click the link under this text!
You can contact our service center 24-7 using our online form