Chevrolet Dealer in Lincoln Reviews the New Spark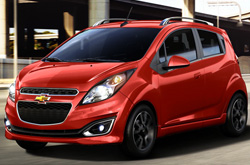 Go ahead and scroll down below the video to begin learning more about the latest version of the Chevrolet Spark. We take our responsibility to outfit the best reviews created by Chevrolet automotive writers - it's just another thing that makes us the top-rated Chevrolet retailer in Lincoln. Loaded with essential specs and information, each article gives you complete access to all the Chevrolet Spark has to offer. Get started by watching the video below or move on to the full review.
Chevrolet Spark Video Review
Compare the Chevrolet Spark's Specs & Features
Check out the 2013 Chevrolet Spark next to versus similar autos like the 2013 Smart ForTwo, Fiat 500 and the Scion iQ, and you will catch that the 2013 Spark out does those vehicles in numerous areas. Look through the reasons see why!
2013 Chevrolet Spark MPG: 32 city / 38 highway
2013 Chevrolet Spark Colors: Lemonade, Denim, Jalapeo, Salsa, Techno Pink, etc...
2013 Chevrolet Spark Seats: 4 passengers
2013 Chevrolet Spark MSRP: $12,245
2013 Chevrolet Spark Body Style(s): Hatchback
2013 Chevrolet Spark 0-60 MPH in 12 seconds
2013 Chevrolet Spark Cargo Space: 11 cubic feet
Spark Powertrain Specs for Lincoln Chevrolet Buyers
Safety Features & Chevrolet Warranty Facts for Owners
Service Information for Lincoln Chevrolet Buyers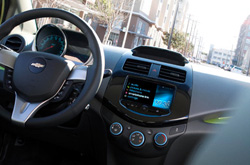 Chevrolet Spark owners won't get the same exceptional factory-trained Chevrolet mechanics and genuine Chevrolet parts at a conglomerate service company. But at our Lincoln dealership you'll benefit from this consistently, along with the sense of contentment that comes with getting a full year service warranty. Husker Chevrolet's auto repair employees will make your Spark run strong, so bring it to our Chevrolet car maintenance branch in Lincoln today. We handle labor intensive, intricate jobs like engine repair, as well as straightforward duties such as quick oil changes, in-cabin air filter replacement and a wide array of specialized services. Make a good choice when picking a place to have your Chevrolet Spark repaired, and remember: At Husker Chevrolet you can look forward to one-on-one service and budget prices on Lincoln car repair. Click the ensuing link to be linked to Husker Chevrolet's service coupons.