Review the 2013 Equinox from Chevrolet Dealer in Lincoln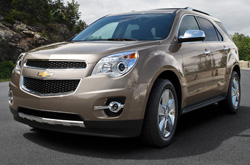 Have you ever wondered about the new Chevrolet Equinox's features, specs and more?Find out below! As the chief Chevrolet franchise in Lincoln it is our job to equip our customers with Chevrolet reviews composed by the best Chevrolet writers in the world. Loaded with accessible specs and information, each passage gives you complete access to all the Chevrolet Equinox has to offer. Can you see the Equinox parked in your driveway? You won't know unless you read on!
Watch a Video on the New Equinox
Is the Chevrolet Right for You?
When considering the 2013 Chevrolet Equinox next to the 2013 Nissan Murano, Toyota RAV4, GMC Terrain, Kia Sportage and the Honda CR-V, and you can catch that the Equinox scores higher those autos in oodles parts. Take a look at the hightlights below.
2013 Chevrolet Equinox MSRP: $23,755
2013 Chevrolet Equinox Body Style(s): Compact SUV
2013 Chevrolet Equinox Seats: 5 passengers
2013 Chevrolet Equinox Cargo Space: 31.4 cubic feet
2013 Chevrolet Equinox MPG: 22 city / 32 highway
2013 Chevrolet Equinox 0-60 MPH in 8.3 seconds
2013 Chevrolet Equinox Colors: Ashen Grey, Black, Atlantis Blue, etc...
Chevrolet Equinox: Standard & Available Features for 2013
Lincoln Chevrolet Equinox Owner Warranty Info & Safety
About Husker Chevrolet's Service & Auto Repair Facility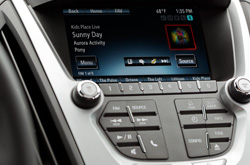 Get a complimentary warranty on repairs - plus access to accredited Chevrolet parts and superb Chevrolet technicians - at your chief Lincoln area Chevrolet repair center. If you shrug off preserving your Equinox, its health could be compromised, so drive it to Husker Chevrolet's service center in Lincoln. From arduous assignments like engine repair to less time consuming services like air filter replacement and simple ordinary oil changes, our Chevrolet repair veterans do it all. For valuable Chevrolet repair in Lincoln, drive your Equinox to Husker Chevrolet, where you can rely on getting customized service. Get helpful savings at the ensuing link. Click below to peruse coupons!
You can contact our service center 24-7 using our online form