When most people think of the Chevrolet Blazer what comes to mind is a stodgy old vehicle that lies somewhere between a pickup truck and a station wagon. This first generation SUV was boxy and truck-like when it first came to life in 1969, as it was built on a pickup chassis. By the time it was finally retired from production in 2005, the Blazer had gone through several metamorphoses and name changes. Think that way no more. The Blazer will reappear in 2019 as a mid-size SUV with completely new styling.
The new Chevrolet Blazer will directly compete with other mid-sized SUV crossovers such as the Jeep Grand Cherokee, Ford Edge and Nissan Murano. Think of the GMC Acadia as another equivalent as this two-row vehicle is designed to fit five passengers comfortably will be built on the same chassis and will incorporate the same all-wheel drive system and engines.
Appealing to a New Audience
Starting with its exterior the new Blazer will appeal to those drivers who want a slender and dynamic look to their SUV. It will feature a bolder front, high beltline, dual exhaust and an integrated tailgate spoiler that mimics a floating roof. The Blazer will come in three trims, namely a basic, RS and Premier editions. Each trim has a distinct look and grille to set it apart from the other trims. Baseline Blazers will have a 2.5-litre four-cylinder engine with 193 hp, while the RS and Premier trims will sport a 3.6-litre V6 engine producing 305 hp as well as 21-inch wheels. When equipped with the V6 engine, the Blazer can tow up to 4,600 pounds.
Interior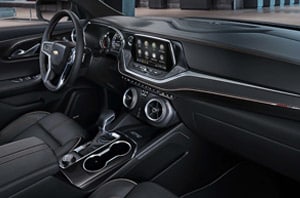 Buyers will find meticulous attention to detail inside the roomy cabin, with a selection of fine materials that will provide passenger comfort and features such as a padded knee area and round air vents. Available options include a panoramic sunroof, automated heated steering wheel and automated heated and cooled front seats.
For connectivity, you'll enjoy a 4G LTE Wi-Fi system with Apple CarPlay and Android Auto compatibility will be included along with a host of safety features and driving aids that buyers have come to expect in new vehicles.
The 2019 Chevrolet Blazer is not yet available, nor has a price been set. However, you can stop by the showroom at Husker Chevrolet for additional information on this brand new vehicle. We'll also be happy to notify you when we get the first Blazers into our showroom so that you can take a test drive.