Husker Chevrolet is excited to be the foremost location for the Chevrolet Silverado in NE. Husker Chevrolet is a Lincoln Chevrolet dealership and carries a enormous inventory of New Chevrolet Silverado and top quality and high value Used Chevrolet Silverado and other cars & trucks.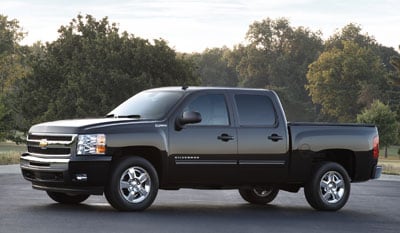 When consumers compare the Chevrolet Silverado to other makes like the Ford F-150, Toyota Tundra and Dodge Ram, the 2012 Chevrolet Silverado shines as the most fun-to-drive. Starting with the 2011 Chevrolet Silverado, owners found this affordable Large Pickup Truck's crisp handling and lively acceleration to be reason enough to choose.
You'll be pleased by the Chevrolet Silverado, full size pickup truck, when you go shopping at Husker Chevrolet in Lincoln
The 2010 Chevrolet Silverado 1500 LT displays the best trim available on regular cab body style pick-ups from the All American automobile producer. Standard on the LT is a 4.8-liter V8 engine that gives 302 hp and 305 lb/ft of torque while also providing 19 mpg highway through a four-speed automatic transmission. Available for 1500 LT trims is a 315-hp 5.3-liter FlexFuel V8 that gives 335 lb/ft of torque. Upgrading to this will also add a six-speed automatic transmission with a locking rear differential and an advanced cooling system.
The LT trim can also be found on Crew Cab and Extended Cab body styles, which give an extra set of rear doors as well as seats for three passengers, which easily makes room for six occupants. For each of these editions of the Silverado, a 6.2-liter FlexFuel V8 is available to drivers who crave the extra horsepower and torque.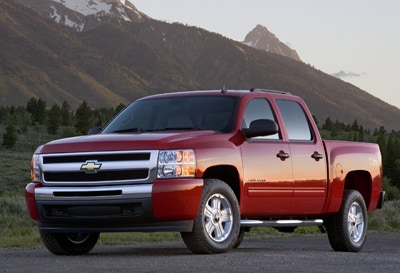 The Silverado pick-up truck 1500 LT Extended and Regular Cabs come with a choice of an eight-foot bed or six-foot, six-inch cargo bed, both of which can easily handle a variety of loads. The Crew Cab is exclusively designed with a five-foot, eight-inch box. The standard interior features include cruise control, a leather-wrapped steering wheel, power locks, windows, and doors. The Interior Plus Package includes an MP3-capable CD player, steering wheel-mounted audio controls, and a power driver?s seat. In addition, several optional chrome packages can be selected to accessorize the vehicle?s exterior. Other options include more than 15 various wheel choices that range from 17 to 22 inches, along with bedrail protectors and bedliners.
The 2010 Chevrolet Silverado 1500 LTZ takes things up a notch with available and standard features. The LTZ trim is available just for the Crew Cab and Extended Cab body styles, and these vehicles come with either the 6.2-liter V8 or the 5.3-liter standard between the front fenders. Leather seats are part of the package on this most edition of the Chevy truck along with heaters for the front passenger and driver. Additional amenities include with the LTZ include rain-sensing windshield wipers, dual-zone automatic climate control, and a top of the line Bose audio system.
The LTZ shares the customization options presented by the Chevy LT, promising a fabulous amount of options that increase the Silverado?s utility and comfort. The Convenience Package includes rear-parking assist to maneuver around small spaces. Along with an available power-sliding rear window and power-adjustable pedals, the Silverado delivers the ultimate in luxury. Silverado LTZ drivers also have the option of the Z71 Suspension Package, which prepares the truck for off-roading by adding an array of skid plates designed to protect the vehicle?s undercarriage, including shock absorbers, a thicker front stabilizer bar, and an air cleaner to keep the engine clean.
Whether you?re looking for a new 2011 Chevrolet Silverado, a pristine 2010 Silverado, or a used Silverado, we can assure you that we?ve got just what you?re looking for. Lincoln Husker Chevrolet has a variety of Silverados to browse through, including Silverado 1500 Hybrid, Silverado HD, Silverado Regular Cab, Silverado 2WD, Silverado 4WD. Compare Silverado to Ford F-150, Toyota Tundra and Dodge Ram and you?ll see why the Silverado work truck stands head and shoulders above the competition.
The reasons why the Chevrolet Silverado will be your choice full size pickup truck in majestic NE
Husker Chevrolet offers the Chevrolet Silverado a 4-door Large Pickup Truck which seats 6 people comfortably. The Silverado weighs 5267 pounds, is 230.2 inches long, 79.9 inches wide, 73.7 inches high, and the Chevrolet Silverado's turning radius is 46.9 feet. substantially spacious for its class, the Silverado has 41.2 inches of headroom in the front, and 41.3 inches of legroom up front. In the Silverado's back seat, there are 39.2 inches of headroom and 34.3 inches of legroom. Need to bring a lot of luggage? The Silverado trunk holds up to 60.7 cubic feet of your gear. So, relax and enjoy!
Standard Chevrolet safety features included in the Silverado are traction control, anti-lock brakes, side airbags, driver airbags, side-impact bars, seat-belt pre-tensioners, passenger airbags. With all these features, the Chevrolet Silverado is always rated outstandingly by the IIHS and NHTSA.
The Silverado also has a raft of comfort and convenience features, including power steering, remote locks, power windows, power mirrors, climate control, cruise control, air conditioning, power seats, adjustable steering wheel, and more! Especially nice are available hands-free phone and navigation. Test drive the Chevrolet Silverado in Lincoln at Husker Chevrolet.
Like all Chevrolet cars & trucks, road handling and performance are top priorities for the Silverado. Passing horsepower in the base Silverado is 302 bhp @ 5600 rpm, and producing excellent torque 305 ft lb @ 4600 rpm foot pounds/rpm, the Silverado accelerates like a flash from 0 to 60 mph in just 6.9 seconds. If you want to go that fast, the Silverado has a top speed of 124 miles per hour. Despite this excellent power train output, the Chevrolet Silverado's fuel economy is rated at 13 miles per gallon in the city and 18 highway miles per gallon. With a fuel tank capacity of 26 gallons, the Silverado cruising range is well above average. Truly a performance car!
The Chevrolet manufacturer's warranty covers the Silverado for manufacturing defects and has these specifications 3 years / 36,000 miles. Chevrolet has worked for years to minimize environmental impact, and the Silverado's carbon footprint is rated at . Not surprisingly, with all these Silverado advantages, this great Chevrolet Large Pickup Truck retains percent of its value at 3 years and 36,000 miles, which makes the Chevrolet Silverado a great used buy!
When seeking safe, economical, sporty and stylish Large Pickup Truck, Lincoln consumers should head to the Chevrolet dealer of choice, Husker Chevrolet at 6833 Telluride Dr in Lincoln NE.